The Maze at Windermere: A Novel (Paperback)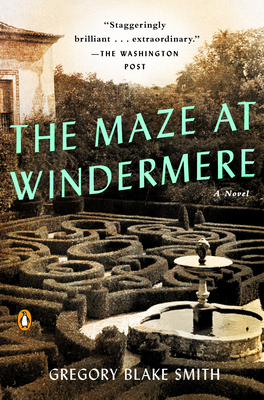 Description
---
Named one of the best books of 2018 by The Washington Post, The Seattle Times, and The Advocate

"Staggeringly brilliant . . . You'll start The Maze of Windermere with bewilderment, but you'll close it in awe." —The Washington Post

"Pitch perfect." —New York Times Book Review

When a drunken party guest challenges him to a late-night tennis match, Sandy Allison finds himself unexpectedly entangled in the monied world of Newport, Rhode Island. A former touring pro a little down on his luck, Sandy has nothing to stake against the vintage motorcycle his opponent wagers. But then Alice DuPont—the young heiress to a Newport mansion called Windermere—offers up her diamond necklace.
 
With this reckless wager begins a dazzling narrative odyssey that braids together four centuries of aspiration and adversity in this renowned seaside society capital. A witty and urbane bachelor of the Gilded Age embarks on a high-risk scheme to marry into a fortune; a young Henry James, soon to make his mark on the world, turns himself to his craft with harrowing social consequences; an aristocratic British officer during the American Revolution carries on a courtship that leads to murder; and, in Newport's earliest days, a tragically orphaned Quaker girl imagines a way forward for herself and the slave girl she has inherited.
 
Gregory Blake Smith weaves these intersecting worlds into a rich, brilliant tapestry. A deftly layered novel of love, ambition, and duplicity, The Maze at Windermere charts a voyage across the ages into the maze of the human heart.
About the Author
---
Gregory Blake Smith is the award-winning author of three previous novels, including The Divine Comedy of John Venner, a New York Times Notable Book. His short story collection, The Law of Miracles, won the Juniper Prize and the Minnesota Book Award. He has received a Stegner Fellowship at Stanford University and the George Bennett Fellowship at Phillips Exeter Academy and grants from the National Endowment for the Arts, the Bush Foundation, and the Minnesota State Arts Board. Smith is currently the Lloyd P. Johnson-Norwest Professor of English and the Liberal Arts at Carleton College.
Praise For…
---
A New York Times Book Review Editors' Choice
A Washington Post Book We're Talking About This Summer
A Southern Living Book That We Can't Wait to Read
A LitHub Ultimate Summer Book
A Washington Book Review Best Novel to Read This Winter
A BookRiot Book You Should Mark Down Now
Winner of the 2019 New England Society Book Award in Fiction

"An intricate creation you'll happily lose yourself in." 
—People

"Staggeringly brilliant . . . An extraordinary demonstration of narrative dexterity. Moving up and down through the strata of history, Smith captures the ever-changing refractions of human desire . . . The cumulative effect of this carousel of differing voices is absolutely transporting . . . Looking up from this remarkable novel, one has an eerie sense of history as a process of continuous erasure and revision. You'll start The Maze of Windermere with bewilderment, but you'll close it in awe." 
—The Washington Post

"Smith sprinkles James's distinctively fresh early style with just the lightest pinch of turgid fussiness—the language is pitch-perfect—and his insights into James's character and mind are flawless." 
—New York Times Book Review

"Once you read Gregory Blake Smith's The Maze at Windermere, you'll understand why Richard Russo calls it 'a dazzling high-wire act.' It's a labyrinthine, layered novel that spans three centuries while following the exploits and experiences of a compelling cast of characters."
—Southern Living

"The best of the year . . . [The Maze at Windermere] is historical fiction unlike any I've read. . . . Each narrative voice Smith invents is pitch-perfect, and the book offers huge formal pleasures as he peels back successions of communities like archaeological layers, connecting them in ways their inhabitants don't necessarily register."
—The Seattle Times

"Smith's vibrant mix of beautiful writing, clarity of voices, flow of history and storytelling, and philosophical reflections had me slowing my pace to stretch out its pleasures." 
—Star Tribune

"A modern-day epic spanning three centuries and five time periods. It weaves together multiple storylines set in the past and present, handing off each story from one era to the next. . . . The Maze features gay characters, freed and enslaved African-Americans, a Jewish-Portuguese immigrant, and a diversity of others mingling together to produce this dazzling novel." 
—The Advocate

"It is timely, it is important, it made me cry and sit very still when I finished it, and it is among the best American novels I've ever read." 
—Lit Hub 

"The Maze at Windermere is a dramatic and interesting look into the past of a town and the lives of those who've dwelled in it." 
—New York Journal of Books

"Dazzling . . . an impressive achievement."
—The Emerald City Book Review

"A breath of fresh air . . . Windermere succeeds in delivering a full-bodied portrait of the evolution of our very definition of status and what it really means to make it in the New World."
—BookBrowse

"This novel is, in a word, excellent. . . . Beautifully drawn . . . Gossamer filaments connect these plotlines; duplicity in all its dismaying forms is a major theme, along with the brilliant contrast between substance and shadow, superficiality and depth. There are moments of wry humor, suspense, gut-wrenching human exchange. And through it all, an honesty—capturing life as people live it—that is made to appear easy, but is very, very difficult to actually achieve in fiction."
—Historical Novel Society

"It is just so vibrant, so fun, so mesmerizing."
—"Bill's Books" on NBC New York

"Gregory Blake Smith's The Maze at Windermere is a dazzling high-wire act. I turned every page with a sense of wonder and excitement."
—Richard Russo, Pulitzer Prize–winning author of Empire Falls and Everybody's Fool

"The Maze at Windermere is thrilling. This novel restored my faith and made me laugh out loud. It's rare that a novel comes along that is broad ranging, so very funny, profound, provocative, literary, and page-turning, and also word perfect. I went right back to the beginning when I'd finished, marveling again at the radiant mind of Gregory Blake Smith."
—Jane Hamilton, author of A Map of the World and The Excellent Lombards
 
"Not since Beautiful Ruins have I read a novel with such breadth of imagination or depth of heart, nor a cast of characters so real, so varied, so compelling. In five exquisitely braided tales spanning nearly four centuries, Gregory Blake Smith illuminates the everlasting power of our passions and the hazard of our follies—in essence, the many ways we mortals strive and yearn toward the center of the maze we each call life. This book is a tour de force: gorgeous, suspenseful, cunning, and wise."
—Julia Glass, author of Three Junes
 
"The Maze at Windermere is an astonishing book—prismatic, continually surprising, daring not only in structure but in its investigation of the human heart. Somehow it manages to be both ruthless and tender. On top of all that, it's wildly, hurtlingly entertaining."
—Leah Hager Cohen, author of The Grief of Others

"Compelling . . . The changing language, landscape, and mores of three centuries of American history are depicted with verisimilitude, highlighting what doesn't change at all: the aspirations and crimes of the human heart." 
—Kirkus Reviews

"Intricately designed and suspenseful . . . Though references to James' work, particularly The Portrait of a Lady, abound, readers don't have to be familiar with his novels to relish the well-differentiated voices and worlds or to enjoy the way the novel's five story lines subtly shift and begin to merge."
—Booklist (starred review)

"Taken individually, each story is dramatic and captivating, but as the author makes ever-increasing connections among the stories and shuffles them all into one unbroken narrative, the novel becomes a moving meditation on love, race, class, and self-fulfillment in America across the centuries." 
—Publishers Weekly (starred review)

"Compelling . . . Award-winning novelist Smith moves nimbly among his tales' various settings and diverse characters within the confines of Newport. . . . [An] intricate tale."
—Library Journal (starred review)